---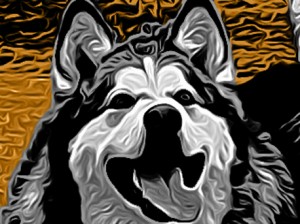 Hi there, my name is Arianna Jackson. Most people call me AJ, though my best friend Leah takes pleasure in calling me Ajax—because as she puts it—despite my brash and abrasive nature, I always get the job done.
I'll admit…her assessment is not entirely inaccurate. Though I do try to be as politically-correct as is humanly possible, I don't mince words and frankly, don't have time for stupidity, arrogance or just plain rudeness. Leah is convinced it's one of the reasons I am rapidly approaching spinsterhood with the only man in my life being of the canine variety.
Personally, I don't happen to mind spending my days with a ninety-eight pound Alaskan Malamute named Nicoh. I mean, who doesn't love a good-looking, muscular guy who A) has your back no matter what, B) never takes offense at anything you say or do and C) never, ever questions you (well…aside from the whoo-whoos and howling cantatas, of course). You just gotta love the big fur ball—most days I feel as though he rescued me, rather than the other way around—though it still pains me to think about the things he had to endure in his previous life. To give you a better idea, I'll share a bit of Nicoh's story…
From the information I've been able to gather, Nicoh was first turned into the county's Animal Control at the tender age of eight months, nearly thirty pounds overweight. According to his owner, he was high-spirited, unruly and completely untrainable. Translation: Nicoh's owner didn't have the time nor wanted to put in the effort to deal with him.
While at Animal Control, a family of four adopted Nicoh with the best of intentions: they wanted a family pet that could grow up and serve as both a playmate and companion for their children. Shortly after the adoption, however, they ran out of patience with what they described as Nicoh's "extreme personality" and locked him in the garage with a forty pound bag of dog food. During the course of the next six months—and dozens of bags of dog food later—the big guy doubled his weight.
Bored and lonely, Nicoh eventually destroyed the family's second car, which they had also abandoned in the garage. On one afternoon, he was so frustrated that he ripped the door handle off the car, got in and proceeded to chew through anything he could find. When the family returned home, they found Nicoh under the remainder of the back seat, gnawing the leather off of the steering wheel he had somehow managed to remove from its column during the course of his little adventure.
One might have sympathized with the family when they returned him to Animal Control, ranting about the havoc the 'monster' had wreaked on their property. Fortunately for Nicoh, one of the Animal Control officers remembered him from his previous visit at the facility. With no sarcasm or accusation in his voice, the officer asked the family to elaborate on how they had gone about making Nicoh a part of their lives, as had been requested of them when they elected to take him home in the first place—had they spent time with him or trained him? Given him love? Apparently, all they could manage were love handles. In the end, the family stomped out of the facility and vowed never to return (thank goodness for small favors).
The officer knew that Nicoh's time at the facility would be limited and contacted Amy's Angels, a local rescue organization funded through a combination of grants and community support, to see if they could help out. Amy herself promptly collected Nicoh and took him back to her sanctuary, a twenty-acre piece of dog heaven she had created for feral, unwanted and homeless dogs.
I had been volunteering at Amy's one day a week when I first met Nicoh. After his initial check-up with the vet, she led him into open play area where I was working. The minute he spotted me, he broke from her grasp, bounded into my arms and knocked me to the ground, as if to say "Where in the heck have you been?" Needless to say, it was love at first sight for both of us.
For the next ten months everyone at the sanctuary worked tirelessly with Nicoh—familiarizing him with both people and animals and providing him with the appropriate diet, exercise and obedience training—all while giving him lots of love and affection. Nicoh thrived in his new surroundings and enjoyed being given new challenges. Toward the end of the stay, he even surprised Amy by 'mentoring' some of the new arrivals.
Over the months, Nicoh and I continued to form our bond and on his second birthday—with Amy's blessing—I officially adopted him. Everyone cried as we left the sanctuary—not because they were sad to see him go—because this wonderful creature had come so far. In his former life, Nicoh had never been give the time, attention or love to prove otherwise. Amy's Angels gave him—and me—that opportunity.
Three years later, Nicoh and I are as close as ever. And though he sneaks an occasional cookie off the counter and insists on hogging my covers at night, I can't imagine my life without him.
A big thank you (and whoo-whoo) to rescue organizations everywhere…without your continued love and support, animals like Nicoh wouldn't get the second—or third—chance they deserve.
—AJ & Nicoh
Note from Harley: While Nicoh and AJ's story was created for the Mischievous Malamute Mystery Series, it is not entirely a work of fiction. In fact, there are many canine companions with special stories in need of foster or forever homes, just as there are wonderful organizations out there providing a variety of services for these amazing creatures. Please support your favorite local rescue today—thank you!